Videos

Buy This Muni Closed End Fund
Apr 25, 2013
Closed-End Fund Advisors Portfolio Manager John Cole Scott names his favorite municipal bond closed end fund.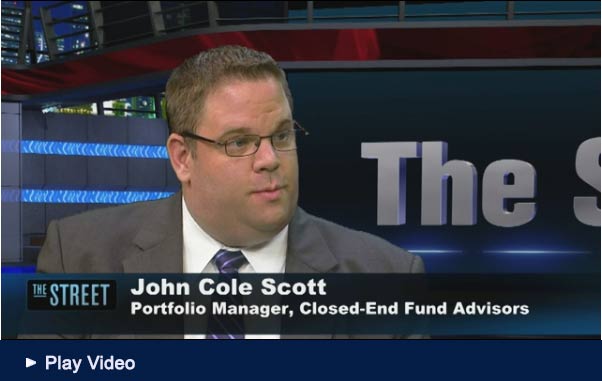 provided by:
The Street

TheStreet is a leading digital financial media company whose network of digital services provides users, subscribers and advertisers with a variety of content and tools through a range of online, social media, tablet and mobile channels. Our mission is to provide the most actionable ideas from the world of investing, finance and business in order to break down information barriers, level the playing field and help all individuals and organizations grow their wealth. With an unmatched suite of digital services, TheStreet offers all of the tools and insight needed to make the best decisions about earning, investing, saving and spending money.

Since its inception in 1996, TheStreet has distinguished itself from other financial media companies with its journalistic excellence, unbiased approach and interactive multimedia coverage of the financial markets, economy, industry trends, investment and financial planning.
Website: www.thestreet.com